Hi,
I have a dataset table that contains rows for of three columns:
Name,
Month,
Value
Is it possible to create a line chart using the above table that will display a line per "Name" with the "Month" plotted on the X-axis and the "Value" on the Y-axis? Basically I need the series to group on Name.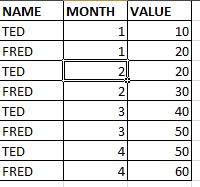 So far I can only get a line chart to work if there is only one Name in the data.
Thanks, Greg