Hi experts,
I have a regular html,css, javascript page.
This is the code for my page.
<!DOCTYPE html>




<html xmlns="http://www.w3.org/1999/xhtml">




<head>




    <title></title>




    <script type="text/javascript" src="http://code.jquery.com/jquery-1.10.1.js"></script>




    <script type="text/javascript">





        // start of document ready




        $(document).ready(function () {




            // ---------------------






            // ---------------------




            // end of document ready




        });        





        function myFunction() {





            // get the selected value of the dropdownlist called DropDownList1 and set it to a variable called x




            var x = document.getElementById("DropDownList1").value;





            // get the selected text of the dropdownlist called DropDownList1 and set it to a variable called y




            var ddltext = document.getElementById("DropDownList1");




            var y = ddltext.options[ddltext.selectedIndex].text;





            // display the value stored in variable x




            document.getElementById("demo").innerHTML = "Item selected value: " + x;





            // display the value stored in variable y




            document.getElementById("demo2").innerHTML = "Item selected text: " + y;




        }





    </script>




</head>




<body>





<p>Select an employee</p>





<select id="DropDownList1" onchange="myFunction()">




  <option value="1">Davolio - 1948-12-08 03:15:00</option>




  <option value="2">Fuller - 1952-02-19 08:23:00</option>




  <option value="3">Leverling - 1963-08-30 06:15:00</option>




</select>





<p id="demo"></p>




<p id="demo2"></p>




</body>




</html>



When I run my page it looks like this: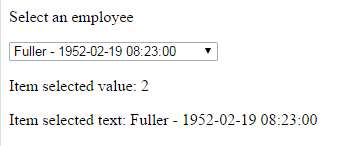 I have a html dropdownlist using 3 static values.
My actual example uses sql server as the database to populate the dropdownlist but I created this example just for the purpose of this question.
If you notice, when I select an item from the ddl, the value and the display text are displayed on my page using the onchange event.
If you notice currently the display text of the ddl is in this format.
LastName
-
yyyy-mm-dd mm:hh:ss
I would like the display text of my dropdownlist to display the text in this format:
LastName
- mm/dd/yyyy mm:hh:ss
So my desired result would look like this: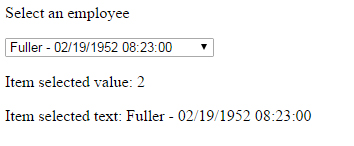 Basically i want to format the date part on the client side using javascript or jQuery. Whatever is easier.
I read that one technique to do this is to use javascript to parse the ddl display text and the format the date to U.S. format like my image above.
Anyone know the syntax to do that?
My example above contains concatenated string value.
But if I have this as my dropdownlist
<select id="DropDownList1" onchange="myFunction()">
<option value="1">1948-12-08 03:15:00</option>
<option value="2">1952-02-19 08:23:00</option>
<option value="3">1963-08-30 06:15:00</option>
</select>
How would I parse this ddl text using javascript so that the displaytext displays like this?: