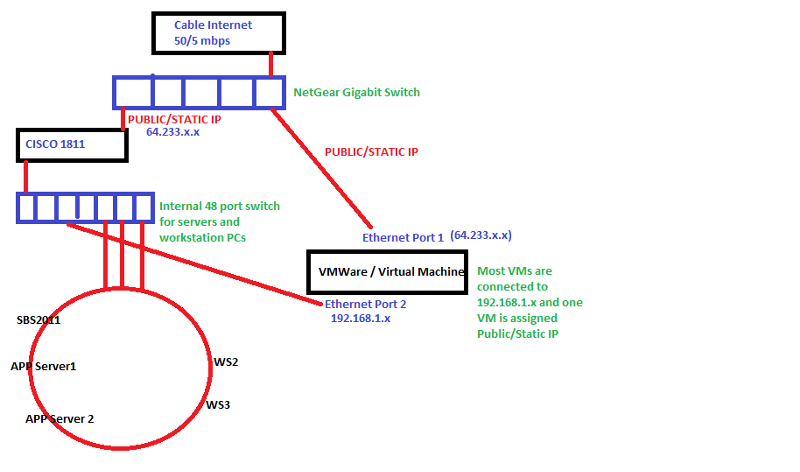 Hi,
I have a strange situation on my network with one SBS2011 Box/DC, several App Servers and 15 workstation desktop PCs.
I subscribe to Cable Internet Service with speed of 50/5 mbps with multiple static IP addresses.
When I run Speedtest, I used to get on average 48 / 5 which is reasonable considering all internet traffic goes thru SBS2011 (192.168.1.x network) and CISCO 1811 router.
Recently I consistently get about 25 / 5 mbps. So download speed has been cut to half of what it used to be. Interestingly enough, upload speed remained the same.
On the same network, I have a Virtual Machine on VMware box where I have assigned a public IP address (64.233.x.x). When I run speed test from that VM, I get 50/5 mbps consistently. But I get half of that speed on any PC (192.168.1.x) behind Cisco Router.
Here is what I have done so far in terms of troubleshooting:
(1) I took the newest PoE switch (recently installed) out of the network to see if that somehow caused the "leak", but to no avail.
(2) I suspected that maybe the CISCO 1811 is acting up and restarted it few times, but to no avail.
(3) I replaced CISCO 1811 with a Linksys G Router(assigned 64.233.x.x to it just like CISCO 1811) , but to no avail.
(4) I disconnected all Ethernet cables from the backup of CISCO 1811 and connected only one desktop PC (to clear any interference or noise that may be originated from any network & computer devices) and ran speed test, but to no avail.
(5) The only thing that I have NOT tried is assigning a 3rd static/public IP to Linksys G router, connect it to NetGear swtich and connect a computer to the Linksys and do a speed test while leaving existing network intact.
So far what I can conclude is that if there is any device between Cable Modem and Some type of Router (whether it is CISCO or Linksys), I loose half of the internet download speed.
Can you help?