We have four 3560 PoE Cisco Switches set up at a site across town and about 1 or two times a week they lose connectivity.
If I go into each switch and make a change to the trunks and save it they all seem to come back up.
Switch 1 is the switch with the Main Uplink to our ISP using Interface Gi0/1. One thing I noticed when looking at spanning tree is that Gi0/1 is not the root port for VLAN 1 but instead the root port is Fa0/1. Fa0/1 is just a trunk to another switch in the rack which in turn trunks to another switch.
Gi0/1 on Switch 1 is the root port for all other VLAN's except for VLAN 1. Since Gi0/1 faces our ISP which has a switch that is directly connected to the datacenter at my location which holds the root bridge, shouldn't the root port be Gi0/1 for that as well?
Correct me if I'm wrong but if there are updates going out on VLAN 1 wouldn't those cause a routing loop if it was just sending it out Fa0/1 (since this is the root port on Switch 1) to the other switches in the same network rack?
I'm not a networking expert by any means so let me know if you need any other info or if this isn't causing an issue at all.
Attached is a quick image that shows the trunked ports and how the switches are connected to each other.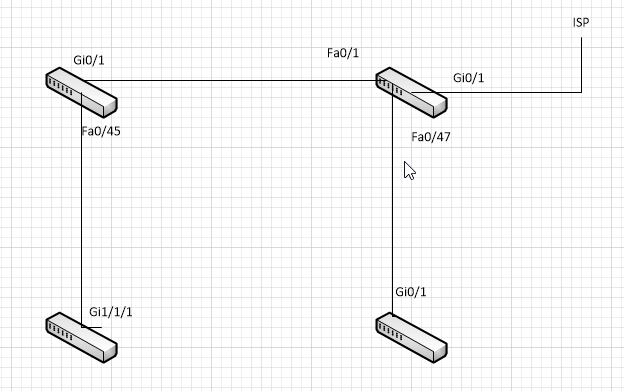 Thanks!