See the following screenshot before reading this post.
Before I attempt the obvious things like an office repair, I want to see if anybody has ever seen this behavior.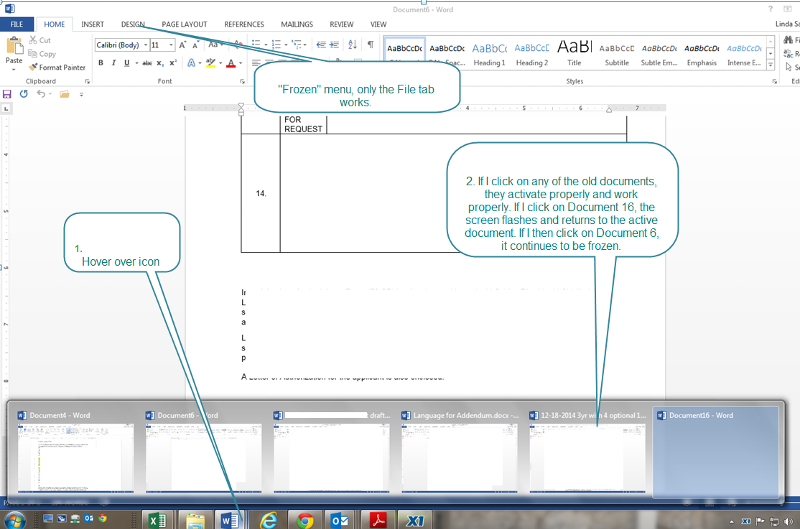 We have a problem with Windows 7 pro machine (64 bit) with office for home and business (32 bit),
Everything works fine except things get weird once or twice a week.
For instance, I am in Document 6, and want to start a new document. I click on File, New, Blank Document. The document is immediately created, but it is not activated. Instead Document 6 "Freezes". I cannot click on menu items like Home or Insert. Word is not totally frozen because I can switch to other documents and they seem fine, but when I return to Document 6 it remains frozen. To unfreeze Document 6, I have to click on "File" then keyboard Escape which causes the new document to open and everything proceeds normally.
Another symptom occurs when I am reading and Outlook email. If I open an attachment the same problem occurs. Sometimes I have to close outlook to unfreeze things.
This is a nearly new computer -- everything was installed about two months ago and the problem started to appear almost immediately.
rberke
Until tomorrow, I will only award points to somebody who has actually experienced and solved this exact problem. After that I will award points for any helpful advice. "Try an office repair" is not terribly helpful, because I already intend to do that if all else fails.