Hi
When i create new Apache Cordova project in VS2015 Pro, i cant build the project.
I get an error saying that:
Error BLD401 Error : BLD00401 : Could not find module 'C:\Users\Bruker-NRX\AppData\Roaming\npm\node_modules\vs-tac\app.js'. Please Go to Tools --> Options --> Tools for Apache Cordova --> Cordova Tools --> Clear Cordova Cache and try building again. AngularJsGoogleMap 1 Build


This error is described here on anothe articale, but the solution wont work in my case:
https://social.msdn.microsoft.com/Forums/vstudio/en-US/4f97d8c5-6069-49ee-a065-283741fd483f/unable-to-build-my-first-cordova-app-in-vs-2015?forum=ToolsForApacheCordova
And on MSDN how to configure Apache Cordova Tools:
https://msdn.microsoft.com/library/dn771551%20(v=vs.140).aspx#vstac
he first thing happen when i create Apache Cordova is the error iam getting explained above.
Then i install npm by navigating in command prompt to my vs-tac folder located in folder(e:\Visual Studio\Programsfiles\Commo
n7\IDE\Ext
ensions\Ap
acheCordov
aTools\Pac
kages\vs-t
ac\ )
And run "
npm -g install
"
But i get an error , se pic: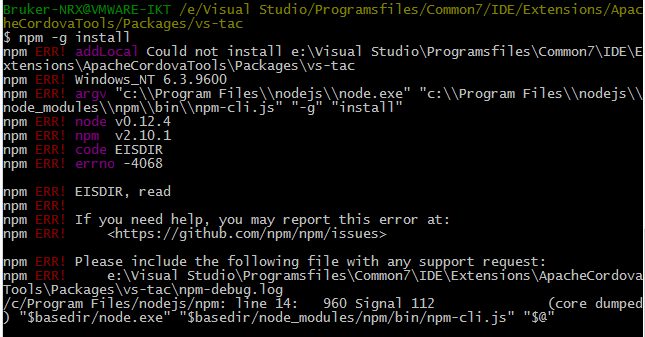 Some how on google i find out that this issue is because of missing package.json file in vs-tac folder.
So i just run npm init
And after that i re-run npm -g install (succsessfully)

And then i clear the cordova cache and restart the VS2015......But still iam getting the same error....
Error shown in VS2015:

And the output looks like:

and i cant find any npm-debug-log file in my vs-tac folder....???