My AD was recently upgraded from 2003 to 2008 due to 2003 end of life. I have a issue where I have DC's in the same forest, in two different subnets at two different physical sites where a user cannot execute a logon script that's a vb script in the netlogon share. When I connect to the DC in the different subnet and try to copy the vbs script to my windows 7 desktop, I get a network error, as depicted here: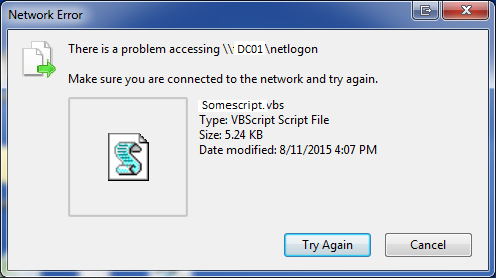 The rest of the files in the netlogon folder (all batch files and even a powershell scripts) copy over just fine. Just not vb scripts. Replication works according to the schedules that AD sets by default.
Here's the kicker, if a local user executes their logon script that's pointed to the local DC in the same subnet, the vb script executes, and you can copy it.
Before in my 2003 domain, this was not an issue. We have not yet set the operation mode of the AD to 2008, it's still mixed.
There are no firewall rules that prevent vb scripts from being copied. I can copy vb scripts from one location's share to another not in netlogon just fine. It's just vb scripts.
Any help anyone can provide would be appreciated!