I've search online for this and many people have the issue, but Microsoft does not acknowledge it and there is no real single solution. Turning here in hopes someone has any idea.
System: Windows 7 64-bit, VB 2005 with SP1 and SP1 for Vista installed. Also tried a repair on VB 2005.
When I created a setup on my old PC it worked fine (32-bit XP and 64-bit Win 7). I am on a new PC now. When I run the ClickOnce setup.exe on client PCs I get 2 error boxes, one on top of the other and neither one of them contain any text on them. (See attached screen shot). All you can do is click "OK".
My setup.exe is 320KB in size. From what I read, if it is that size, then it is corrupted. It is supposed to be 422KB in size. As a work around, what I have to do is go to a previous version of the install and copy it's 422KB sized setup.exe over the top of my most recent version 322KB setup.exe. Then it will install.
So the question is, why is my VB 2005 creating corrupt setup.exes and how can I fix it?
FYI - Here is an old discussion on it: "
https://social.msdn.microsoft.com/Forums/windows/en-US/734253ef-30f8-4cb8-8f3e-5544398f79cb/clickonce-empty-error-message?forum=winformssetup
"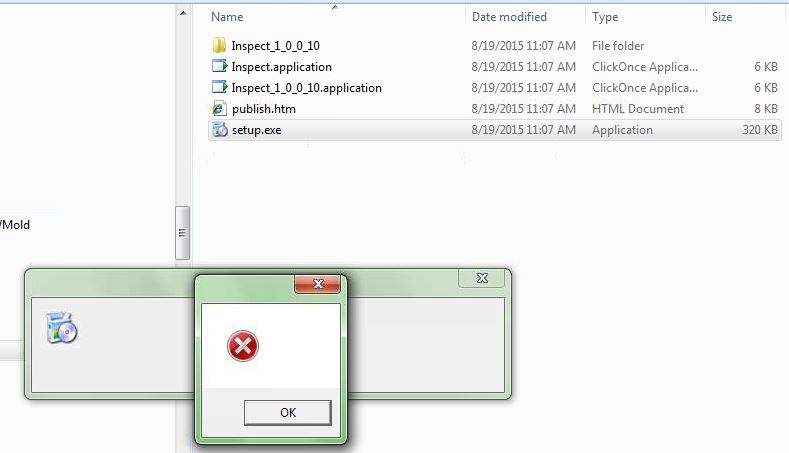 Thanks