I have a spreadsheet which has a column of dates. I would like to be able to select certain of those cells and click a button to have the year of the selected cells advance one year. So for example, the two cells selected like this: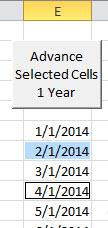 ...would be like this after clicking the macro button: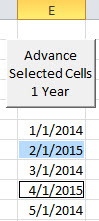 I know how to add a year using a formula, but am not sure how to do it in a macro for selected cells. Your help would be much appreciated!
advance-1-year.xlsx