Hi
I have a form with 2 MSHFlexgrids.
What i need to do is to find the names from MSHFlexgrid2 into the MSHFLexgrid1 and add the year from the MSHFlexgrid1 in MSHFlexgrid2 based on the name.
I'm getting no results with the below code so far.
Can you please help me with it?
Thanks for your help.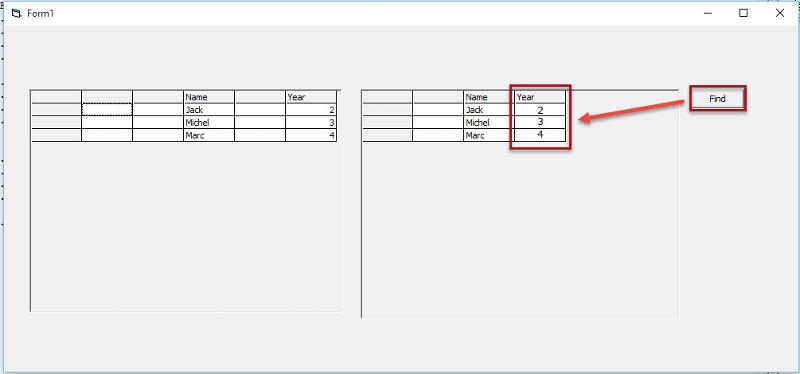 Private Sub cmdFind_Click()




Dim r1 As Long, r2 As Long, i As Long




    Dim Text1 As String




    Dim Text2 As String




    Dim bFound As Boolean





    'Part 1




    For r1 = 1 To MSHFlexGrid2.Rows - 1




        bFound = False




        For r2 = 1 To MSHFlexGrid1.Rows - 1




            Text1 = UCase(MSHFlexGrid2.TextMatrix(r1, 2))




            Text2 = UCase(MSHFlexGrid1.TextMatrix(r2, 3))




            If Text2 = Text1 Then




                bFound = False




                Exit For




            Else




                bFound = True




            End If




        Next r2






        If bFound Then




            MSHFlexGrid2.TextMatrix(r1, 3) = UCase(MSHFlexGrid1.TextMatrix(r2, 5))





        Else






        End If




    Next r1





End Sub



Lookup.zip