Hi. We have a worksheet in which Column A looks like this: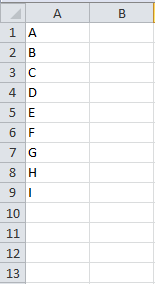 We want to search if A, B and C exist in different cells and return "Yes" if it does and "No" if it does not. In this case, the function should return "Yes" but if the function searched for A, B and Z, it would return "No".
Is there a way to do this with functions and not use VBA? I have looked at Search, Find, Lookup, Vlookup, etc. and can't seem to figure out how to do this. It seems like it should be easy.
Thanks for your help.
Alexis