Dear all,
We're having some tiny issues with Lync 2013 server, and after several days reading and checking the most common Lync blogs/website for troubleshooting we still have an issue with mobile devices (only). Your help will be really appreciated! (And maybe save my job)
On our actual situation:
All laptop and computers can log to lync, and we chat only, on the LAN or from a remote location (no vpn required from wan to login). All good.
Mobile devices (iphone/ipad/android) can basically not log-on to the system.
Architecture:
1* front lync server
1* edge lync server
1*reverse proxy server (windows based)
All our servers are running under windows 2012srv.
SSL certs are the following, for the internal side, PKI has been implemented and delivers a SSL. For the external websites Digicert SSL has been configured.
Here are some results after test with lync connectivity analyzer: (from WAN)

(FQDN: even with a manual configuration doesn't work)
From LAN:

We notice that when we try to check the content of the Autodiscovery IIS we have error 403 or 500.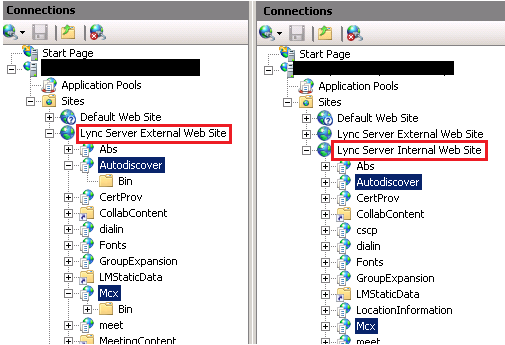 On the actuall situation we basically can't understand we're to start and push forward our troubleshooting researches :/
Thank you