We have five clients who all have this same issue, and I've been beating my head over this for the past five hours, and could really use some help. Essentially, they have all done the same thing. They have accidentally told the computer to upgrade to Windows 10 and they told the system to stop downloading it, as they are happy with Windows 7. As of now, none of our clients running Windows 8.1 have gotten this error. This is a screenshot of the update history: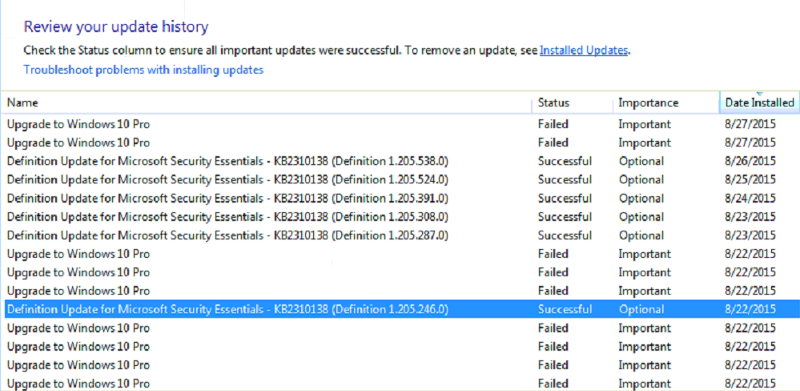 Here is a screenshot of information on the "Upgrade to Windows 10 Pro" failure: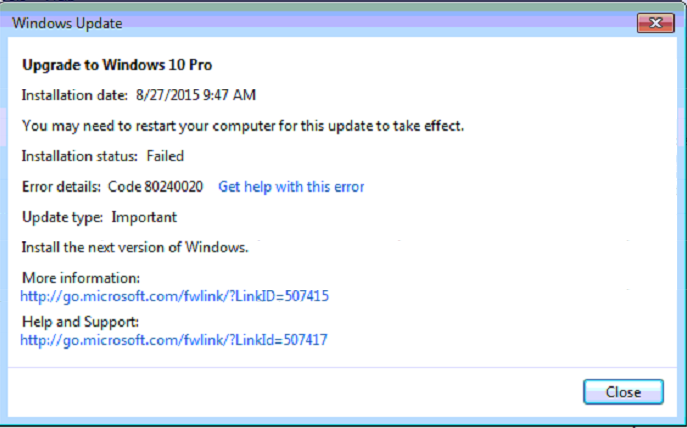 When you boot the computer, it asks you to reboot in either 15 minutes, 1 hour, or 4 hours. Under Windows Update, it also says "Restart your computer to install important updates", and won't let you check for more updates. If you reboot, it pretty much does a normal reboot with no updating, and once you boot it up again, it will do exactly the same thing in both Windows Update, and the update prompt.
I have already tried deleting all files from C:\Windows\SoftwareDistrib
ution\Down
loads, and then opening an elevated command prompt and entering wuauclt.exe /updatenow to no avail.
Does anybody have any suggestions? I have searched google, and that's pretty much what everybody has said to do. If it is necessary, some of the systems we could update to Windows 10, however the clients would really like to stay on Windows 7 if possible. Any help would be greatly appreciated. Thank you very much in advance!