I have an ESXi server, recently upgraded from 4.x to 5.5. I've expanded the existing RAID array using the HP Array config utility from 4 disks (3 in the array plus a spare) to 5 disks (4 in the array plus a spare). In the array config utility, it shows that the array is good. However, when I go into the VSphere client to manage the datastore, there doesn't seem to be a way to expand the existing datastore into the new free space. The properties of the disk, though, does show the correct size: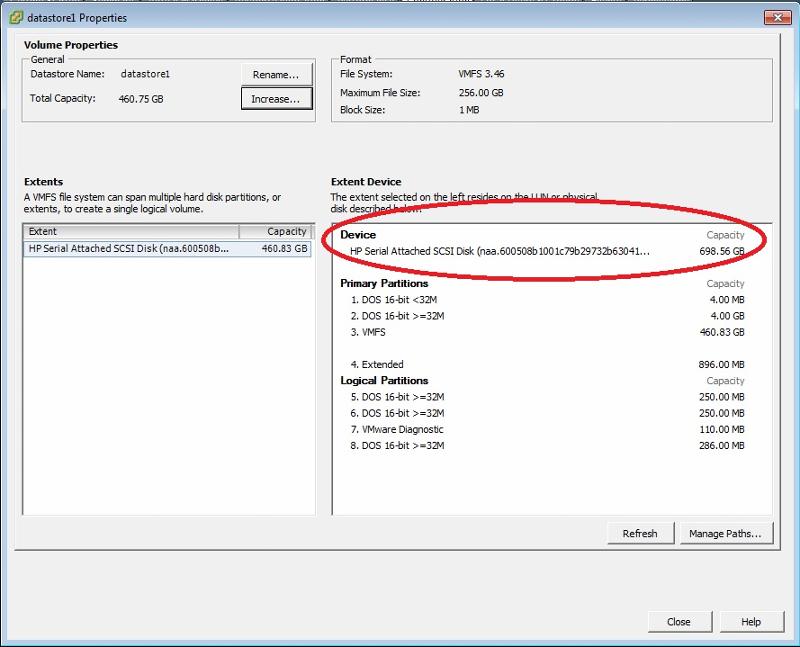 I've done some research on this and through a post in the VMWare Communities section found this article:
http://kb.vmware.com/selfservice/documentLinkInt.do?micrositeID=&popup=true&languageId=&externalID=2002461
I've read this over carefully, and it seems as though it should work in my situation. I have one concern, though, and that is that I'm pretty sure the disk is formatted as MBR not GPT. There's a reference in the article (Step 9) to moving the GPT partition. Although nothing else in the article states that it has to be a GPT disk, I'm just a little unsure of whether this is a relatively safe procedure and should work in my situation.
Any expert advice - maybe from someone who has done this before would be ideal.