I have got data into 3 different sheets within one excel file. I want to combine the data from all 3 sheets into one final combined sheet.
The Formula should do a comparison based on the Symbol Column.
ex. If Symbol given in Cell A4 is present within [ Sheet A Column B ]
then pick up the values for [ Price % and Open Interest % ] from [ Column C and D respectively]
And put those values within the [ Column B and C ] in the current sheet.
If a particular symbol is NOT PRESENT within Sheet A, then just put a value of [ ZERO 0 ] in the current sheet, in front of that symbol.
In the exact same manner, just repeat the process for Sheet B and Sheet C as well.
I have attached a snapshot that shows the excel sheet and I have also attached the original excel sheet that has got all the data inside it.
Please suggest some way to do it.
Thanks a lot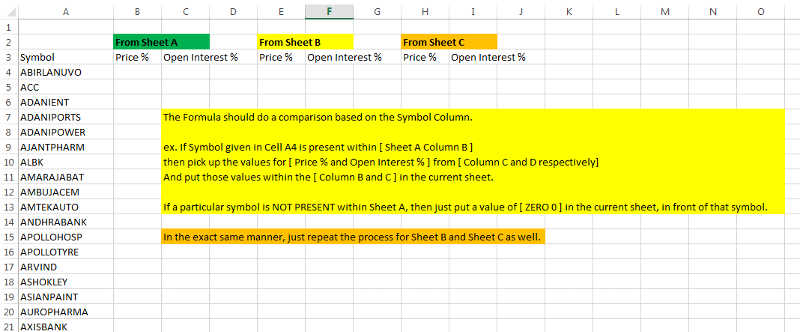 Combine-Data-from-Different-Sheets-.xlsx