I cannot seem to clear the template cache. No matter what I do, the same data remains from my cfquery example below. I've tried all possible combinations found in CF Administrator's Server Settings > Caching settings to release the query cache, EVERY option but nothing releases the cached query.
In ColdFusion 8 I was able to set "Maximum number of cached queries" from, say 200 to 1, which would clear the cache set in my CachedWithin setting. Now, in ColdFusion 11, this does not seem work as I expected at all. It must be my lack of understanding but I've spent far too much time attempting to understand, read so many links to pages with discussion I cannot understand.
I would have thought that clicking one of the Clear Cache buttons in CF Administrator's Server Settings > Caching settings would clear the cache but it does not, even when that page looks like the screenshot I attached.
See the attached screen shot of CF Admin.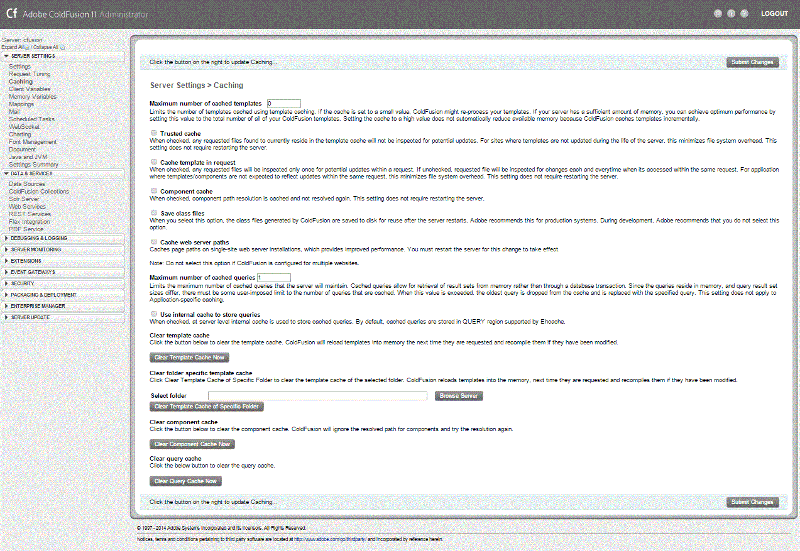 My cached query will only be cleared when I remove (or sometimes edit) the "cachedWithin" statement on the query.
EXAMPLE:
<cfquery name="StoryInfo" datasource="anews" cachedWithin="#CreateTimeS
pan(0, 0, 1, 0)#">
select top 50 *
from storybook
where online = 1
order by id desc
</cfquery>
I'll settle for removing all cached queries, system wide, when we add a new story and want it to be seen, and just as quickly as I did in CF8. But this new version of CF11 seems beyond me. I am not a programmer but subbing for the one who died. I've read so many examples on the net but they assume I know more than I do which is quite frustrating.
The DOCS from Adobe seem written in nearly another language. So, all I've been able to do is experiment. I mean, all I want to do is remove the cache system wide so my changes will take effect and be seen, and without having to edit the CachedWithIn setting. Having to edit the cfquery seems pretty lame, no doubt my confusion and lack of understanding.
So, would someone please read this carefully and show me where I'm going wrong? This must be something very simple I'm not understanding.