Hello
I would like to know how to use a fontawesome icon within a solid circle.
Like the attached mockup.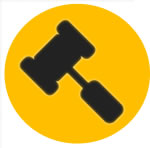 I want to use it on this website (work in progress). as the Left of the currently two gold ovals, near the top. I will also need to position the final fontawesome like the other two ovals so that the text is to the left of the fontawesome oval. (Am I over-explaining this? :) )
link to site:
Link to site
THanks!
Rowby