Hi experts,
I'm using the jQuery UI Autocomplete.
My example works similar to the custom data and display example found here:
https://jqueryui.com/autocomplete/#custom-data
So this is my fiddle for my example
http://jsfiddle.net/ps0L0znf/
When you run it on my page I have a textbox and a button.
The button called Button1 is disabled on page load. Also a label called LabelYouSelected is hidden
It looks like this: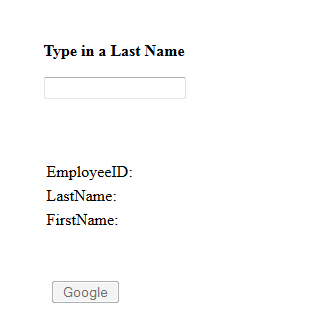 After I select an item from the autocomplete. The button is enabled and the label is unhidden.
So after I make a selection then my page looks like this: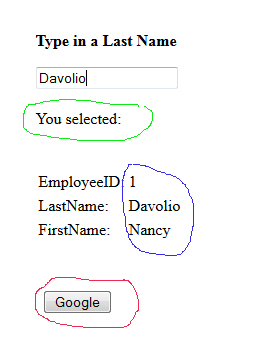 After I make a select , for example if I select Davolio. Davolio is placed inside the autocomplete textbox.
Is there a way that after I select an item and then i clear out Davolio from the textbox to disable the button and hide the label and clear the values on these divs. <div id="LabelEmployeeID"> <div id="LabelLastName"> <div id="LabelFirstName">
Basically If I delete the text from the textbox. I want everything to be just as it is on page load.
anyone know the event when the text gets cleared out from the textbox?