Hi guys,
I'm been working a vba code that would connects to a MS SQL server and import data to Excel, but i'm having some issues with it...
I'm getting this error: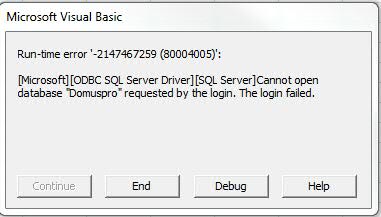 I have checked up in MSSMS the roles etc. and everything seems to look fine, It works fine on my comp, since i'm added as DB_Owner with my AD account, athough I want to user another account for the dataimport which is a local user, this should not be a problem I guess? Maybe i'm using a wrong provider?
I'm fairly new in VBA so just really trying to learn :)
Please have a look at the sample file
thank you in advance
samplefile.xlsm