I have a strange issue which my PC, which has installed
Windows 7 Professional 64 BIT
. I have purchased a Bluetooth headset from JBL. I pair it with the machine and all goes well. It's paired and the icon shows in the Devices & Printers. So I then visit the audio icon on the bottom right of the taskbar, right click, open
Playback devices
and here resides the issue.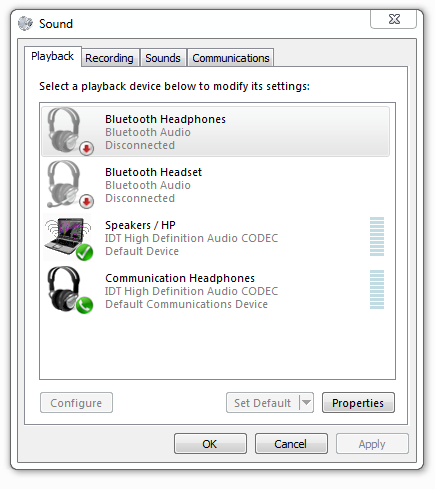 Both Bluetooth devices show as disconnected. I click to connect but nothing happens.
I have searched over the web and there are similar cases even in Microsoft forum but there's no solution after years.
If it helps, I have connected the JBL headset to a Mac and to my phone and in both cases works beautifully. So the issue resides with Windows 7.
Any help to solve the issue would be very appreciated.