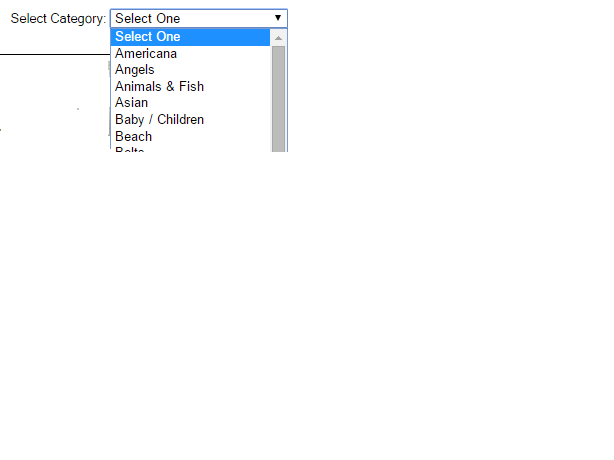 Hi,
I have a CFM page where it lists items from the inventory table.
Recently I added a drop-down menu (please see the screenshot) where the user can pick the category. Once a category is selected, I am hoping to display only the items in selected category. However my code below displays all items regardless of what I select from the drop-down menu.
When I display the contents of "SORTFIELD" variable, it shows the correct Category ID value whenever I select different ones. However my page still displays all the items in the table.
Thanks.
<CFparam NAME="SORTFIELD" Default=0> <!--- Define the variable value to zero for the first time loading --->
<cfoutput>Current Sortfield: #SORTFIELD#</cfoutput> <!--- Display the value of Category ID selected from the drop down --->
<CFQUERY NAME="GetCategory" datasource="DSN">
SELECT * FROM Category ORDER BY Category
</CFQUERY>
<CFQUERY NAME="GetDesigner" datasource="DSN">
SELECT * FROM Designer ORDER BY DesignerName
</CFQUERY>
<CFQUERY NAME="GetFeaturedItems" datasource="DSN">
SELECT Inventory.* , Category.Category, Designer.DesignerName
FROM Inventory, Category, Designer
WHERE Inventory.Status = 'A'
<CFIF #SORTFIELD# GT 0>
AND Inventory.CategoryID = #SORTFIELD# <!--- Display only the items in selected Category from drop down --->
<CFELSE>
AND Inventory.CategoryID = Category.ID <!--- First time loading. Display all items from Inventory table --->
</CFIF>
AND Inventory.DesignerID = Designer.ID
</CFQUERY>
<FORM ACTION="Inventory.cfm" METHOD="post">
Select Category:
<SELECT NAME="SORTFIELD" onChange="this.form.submit
()">
<OPTION VALUE="" selected>Select One
<CFOUTPUT query="GetCategory">
<OPTION VALUE="#ID#">#Category#</O
PTION>
</CFOUTPUT>
</SELECT>