EHLO.
Trying to migrate user from older Macbook to newer Macbook Pro.  We have a history of being hacked and the Macbook's Disk Utility showed many permission repairs needed for mostly iTiunes and iPhoto related files and folders.  DU cannot repair them.  Says repaired, then verify shows still there.  Even though I don't really go along with ignoring errors, I checked anyway, and these errors are not listed in the "errors you can ignore" from Apple.  I think maybe all are of the type shown here in these two examples where DU says it should be a directory and it is showing as a file or whatever a "-" means.
Permissions differ on "Applications/iTunes.app/C
ontents/Re
sources/Du
tch.lproj/
CDInfo.nib
"; should be drwxr-xr-x ; they are -rwxr-xr-x .
Permissions differ on "Applications/iTunes.app/C
ontents/Re
sources/Du
tch.lproj/
ConvertID3
.nib"; should be drwxr-xr-x ; they are -rwxr-xr-x .
I'm trying to learn Terminal and changed hidden files to visible and the iTunes.app folder listed in the error still does not show in Finder.  Alright so big deal I'll keep using Terminal.  I figure it must be xattr or something I don't understand yet.  I can navigate to iTunes.app folder in Terminal and it shows files.  I can see the xattr's for the folders and files like "@" or "+" but don't know what to do yet.  Thought I'd find easy way to change "d" to "-" and it's a little busier than I'd hoped.  Trying to learn by doing it this way, rather than wipe and reinstall OSX.
Background:
This came up because we were planning to upgrade the older Macbook to Yosemite and had errors during update from App Store app.  After searching, it said one update had about 8 or so updates bundled into the update.  The simple update button failed with error 102.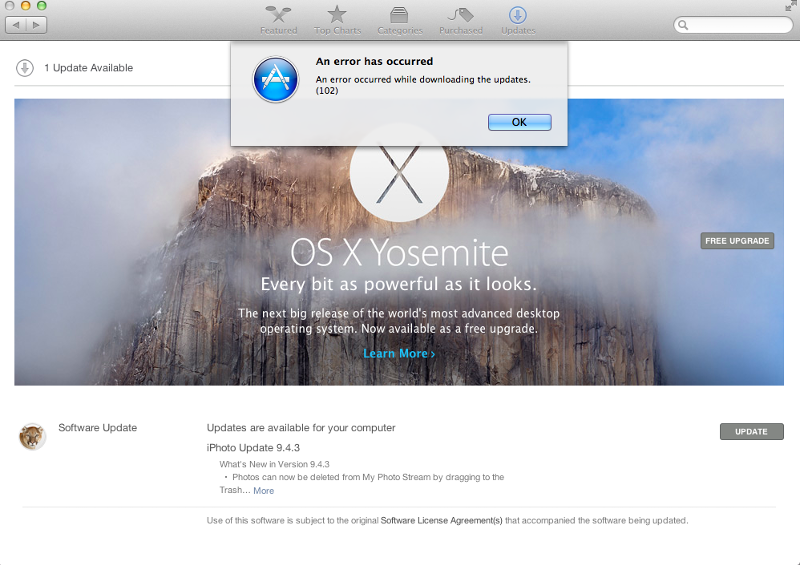 Looked it up and it said permissions problem.  Then ran DU and ended up finding the permissions problems with many iTunes files and folders that cannot repair.  Meanwhile, back at the ranch, went to the bottom of the main screen in App Store app and clicked the little blue "More" link and the 8 or so bundled updates expand downward into individual updates for each one.  A few hours later with three required restarts, I updated all except for the one shown above.
In case this mess is from a hack, like an ongoing monitoring kind, I want to mention one other error found by DU.  DU said the file:  "<path>/ARDAgent" has been modified and will not be repaired."  Because of past hacks, and because it is ARD, I renamed the file and DU no longer shows an error for it.  Simply cannot use ARD for now I'd guess.  Some threads I read said ignore ARDAgent error described, and they were contradicted by people saying that error was a serious proven security opening.
So now trying to change "d" to "-" .  Also noted I cannot put iTunes in the trash because I get an error saying it is required by the OS, but I found an Apple site that would allow me to download and install iTunes.  What gives?  So I haven't tried installing iTunes over the current ITunes yet.  I found I could drag iPhoto to the trash without an error.
An Apple a day, keeps the Disk Doctor away.
But think of the cost of getting a new machine everyday.  Besides, Apples are usually pretty darn good.  Anyone here ever try Disk Doctor from FIPLAB?  I thought Disk Doctor name was the original Apple utility.  Name change?
Thanks for listening.