I have a new 2012 terminal server installed with Office 365 minus Outlook 2013. Outlook 2010 is installed due to the absence of Outlook 2013. The system is running well and Outlook clients connect to their legacy Exchange server OK and all is functional. However a Legacy application launched on the Terminal Server also uses email as defined by Outlook. The application complains saying Microsoft exchange administrator has blocked you version of outlook. This application just determines the default mail client and uses it accordingly. Now when I check the default mail client under "Control Panel" Default Programs, also under IE Programs it shows the Outlook (Desktop) which is good except the
icon appears to be Outlook 2013
? Further down under IMAPI the Outlook 2010 icon appears so assume this is correct.
See image below.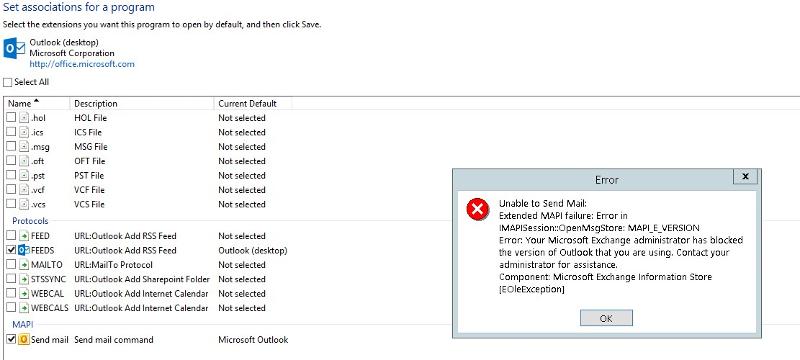 Searching called for registry checks but from what I can see all is OK. Outlook is set as default.

Also the registry appears to be pointing to the correct place.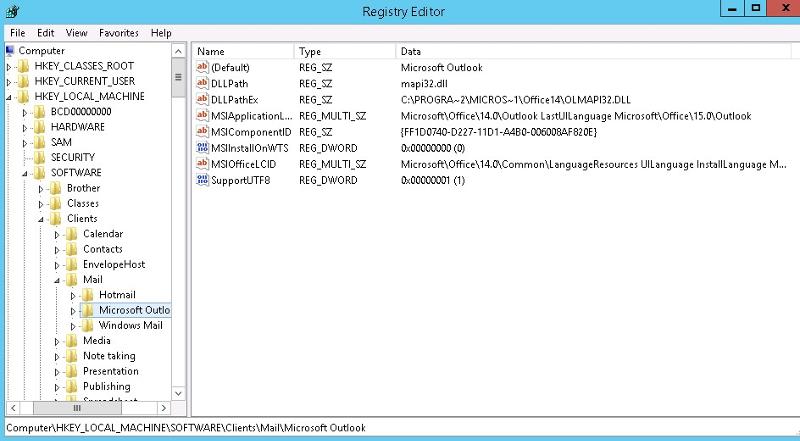 OK so how do I confirm that Outlook 2010 is the default client as far as the server is concerned? Should I carry out a repair of Outlook 2010 because the default programs do not allow me to choose Outlook 2010 as the default and I am not sure why Outlook 2013 shows up when it has not been installed / disabled?
Should I do the the following as recommended by some to resolve the default program issue?
Browse to the following location:
C:\Program Files\Common Files\System\MSMAPI\1033
Next, delete MSMAPI32.DLL, when you start Outlook 2010 the file will be recreated by Outlook upon launch, and ask you to set the application as the default.
Note, if I type "Outlook" in the run field of the server, Outlook 2010 fires up which tells me the association / default is correct.