I had a good solution at:
http://www.experts-exchange.com/questions/28735879/video-player-height.html
from Julian Hansen. This is part two of the same question.
In the below image:
1: Small video player appears. For now I am fine with this.
2: When play button (on 1) is clicked on, this screen plays the video. This is good.
3: When pause button (on 2) is clicked on, the video stops. This is good.
4: But, when play (on 3) is clicked again,
immediately it changes to image 4 while the video continues playing
.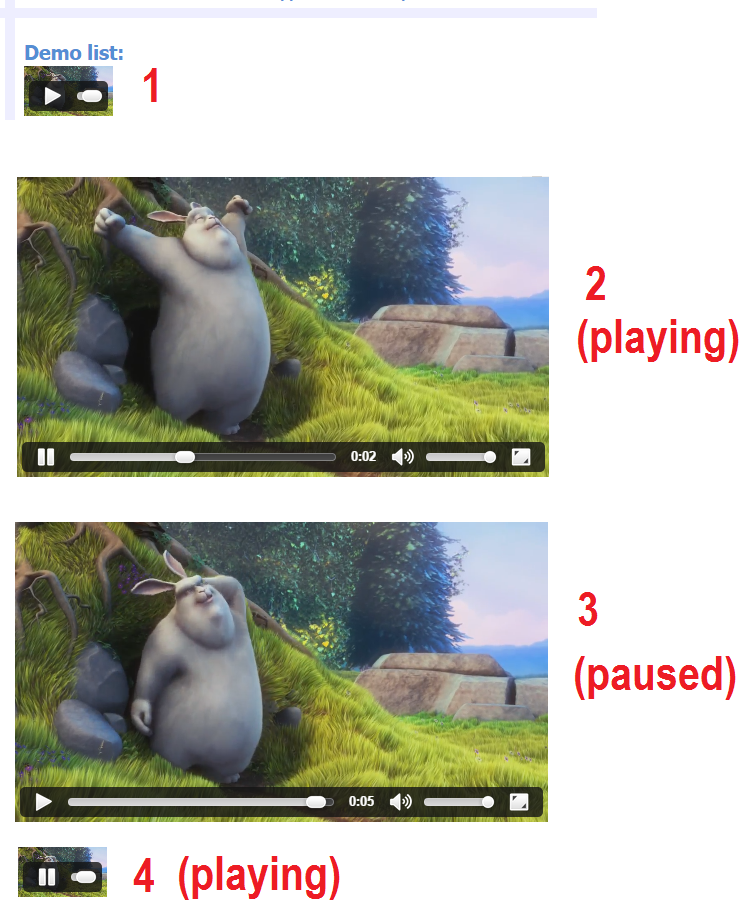 Question: How this problem could be corrected?
Problem: On 3, on play-click continues playing but only after reducing its size. The code needs to be revised to prevent changing its size on play. The size ought to be reduced on after video play gets to its end.
Additionally, if user lets video finish up in image 3, ideally, it should shrink back to its iconic size after say 3 or 4 seconds delay. Sorry, if this is too much, I will be happy to break this question to a few.
<video height="100" controls data-height="500">




      <source src="http://www.sample-videos.com/video/mp4/720/big_buck_bunny_720p_1mb.mp4" type="video/mp4">




      Your browser does not support HTML5 video.




    </video>



<script>




$(function() {




  $('video').on('play', function (e) {




    // SAVE THE CURRENT HEIGHT




    var saved = $(this).height();




  




  // GET THE NEW HEIGHT DEFAULT TO 400 IF NOT SET




  var newheight = $(this).data('height') || 400;




  




  // SET THE NEW HEIGHT




    $(this).css({height: newheight + 'px'});




  




  // STORE THE OLD HEIGHT FOR WHEN DONE




  $(this).data('height', saved);




  });




  




  $('video').on('ended', function (e) {




    // SAVE THE CURRENT HEIGHT




    var fullheight = $(this).height();




  




    // GET THE OLD HEIGHT DEFAULT TO 100 IF NOT SET




    var newheight = $(this).data('height') || 100;




	




    // SET THE DEFAULT HEIGHT




    $(this).css({height: newheight + 'px'});




  




    // RESTORE THE FULL HEIGHT VALUE




    $(this).data('height', fullheight);




  });




});




</script>