I don't know if it's just me or if Microsoft really overcomplicated how this works on Server 2012 (compared to 2008/2003)
We have one "Licensing Server".  Then we have machines joined to our AD domain.   All we used to need to do was set up terminal services on the client machine, point to our licensing server, and give it the extra user-CAL's it needed (something like that, it's been a while but I remember it was really simple)
Server 2012 seems quick a muck up...
I'm not even sure exactly what to install but the process of getting RD Licensing on the client machine. it seems to end up making me install EVERYTHING (RD Licensing, RD Gateway, RD Connection Broker, RD Virtualization Host, RD Session Host). I know I don't need everything but I didn't see any other way.
So where I'm at now, is that I did somehow get it working (more than 2 users are able to RDP simultaneously into the client machine currently),  but the user is seeing a warning pop up in their task menu saying:
'Remote Desktop Services will stop working in xx days. On the RD Connection Broker server, use Server Manager to specify the Remote Desktop licensing mode and the license server.'
I found this article:
http://terenceluk.blogspot.com/2014/10/how-to-define-remote-desktop-services.html
but it has steps via Group Policy.
I don't know if that is necessary I'd rather not use GP because all these client machines are under one OU, but some are Server 2003 and use a different licensing server for example so I don't want to change the GP for the entire OU.
I may have set this up all wrong on this 2012 client machine I don't know.  Is there a way to set this up to be completely stand-alone? (be it's own licensing server and everything self-contained), because I can't find any way to point it to our licensing server (which doesn't run 2012 so maybe it won't be possible anyway)
If my question sounds confusing, let me first ask this:

- if the server is joined to OUR domain, can it still be a self-contained licensing server, or does the fact that it's joined to our AD mean we have to point it to our licensing server somewhere?
In other words, I don't necessarily mind setting this up as a stand-alone and not needing an external licensing server, but WILL THAT WORK if this machine is joined to our AD domain?  
Below are screenshots of how things look currently on the client machine.  This is working (3-4 users can be RDP'd in at once), but something will stop working in 72 days, so obviously I didn't do this 100% correct.
I don't currently see any way to point this client machine to using our licensing server.
(These are all screenhosts from the client machine)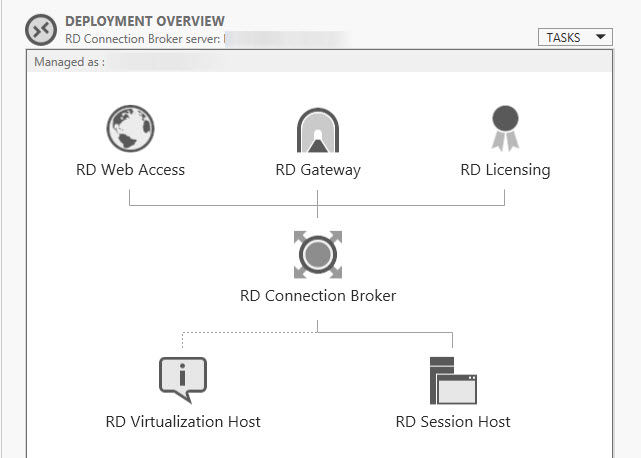 When I right click and go to
"Add..."
on either the 'RD Licensing' or the 'RD Session Host' icons, I basically get an empty window  and have no servers to select  (nothing under Server Pool, nothing under Selected)
For example:
Again, I'd gladly make this a standalone session host/licensing server, I think that would be easier if it's possible and can be done even though the machine is joined to our AD domain.
Thanks for any assistance.