We have exchange 2007 SP3 on an old server 2003R2. The users are wanting to start sending digital signatures (encrypt their outgoing email to their clients). Right now I just want to focus on the OWA users. So all my users access the OWA by going to
https://remote.mycompany.com/owa
(where remote.mycompany.com is the same on the Certificate). When I go to send an email with it digitaly signed I get the following error.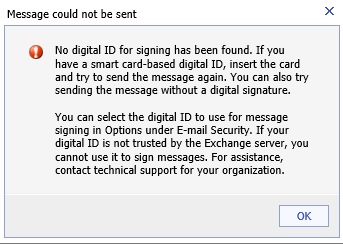 I wanted to check the Certificate being used so i had to enable a registry entry...
Expanded HKLM\System\CurrentControl
Set\servic
es\MSExcha
ngeOWA\SMI
ME
Right clicked the SMIME key and click New and click DWORD (32-bit)
Named the new DWORD value AllowUserChoiceOfSigningCe
rtificate
Double clicedk AllowUserChoiceOfSigningCe
rtificate and set the value to 1.
I click options > email security > click manually pick the certificate it says none and when i click the "choose signing certificate..." there is nothing to choose its totally blank.