Consider the following scenario:
Our customer has purchased a new file server for their redirected folders, call it "NewServer". Their redirected folders currently reside on another server, "OldServer". Folder redirection policy is as follows: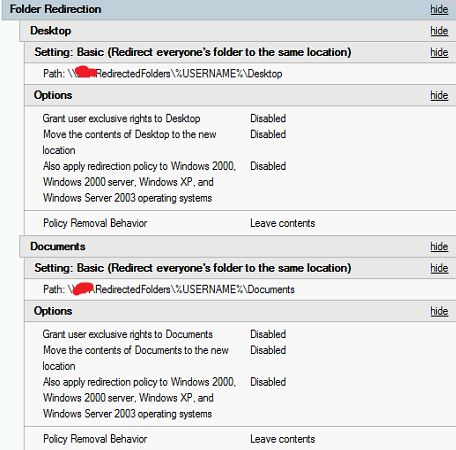 We don't want to use the optimized move procedure described in
here
, but we also don't want to leave NewServer "empty" until users logon and their workstations copy their folders to the new location. The reason for this is because some users have very large folders, and may get impatient and turn off their PCs during the logon copy process, resulting in an inconsistent folder state.
That leaves this option: robocopy the folders from OldServer to NewServer when users aren't working, and update policy to point to the new location. Policy will have refreshed by the time the users come in, so their PCs will have the updated policy setting.
Will that procedure work correctly?
In other words, if I robocopy the folders from OldServer to NewServer, and just update the policy to point to NewServer, will the workstations "understand" that they need to sync offline files using the new location, without users needing to wait for a file copy to finish?