I am currently unable to email from Sage Line 50.
When trying to email invoices (or even test the email capability in the Report Designer) I get as far as the step 5 of 6 (processing) and then a Windows error appears "SBDDesktop.exe has stopped working" (see attached image)...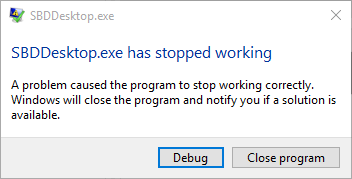 I am using version 20 (aka 2014) on Windows 8 and Windows 8.1 with the data on a network.
I have previously used the same version of Sage (with all updates performed) and it worked successfully but I have recently moved from Windows 7 to Windows 8 machines and none of them are working.
Thanks in advance for suggestions/assistance.