I've got several apps that I'm building within my web community. Recently, just to keep things a little more organized, I'm creating a separate directory for each app.
My stylesheet is located in the "css" directory in my root folder. So when I reference it using "../css/new_style.css," unless all of my images were referenced as absolute URLs rather than relative URLs, I ran into a problem.
I've got some classes in my root directory as well and here's where I'm running into a problem. For example, if I do "require_once('projectpage
class.php'
);," I get an error that says a DBaux.xml can't be found. Take a look at what this looks like below...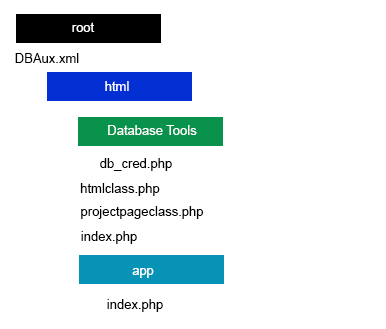 Instead of duplicating htmlclass.php and projectpageclass.php in my "app" directory, I want to simply call them like "require_once('../htmlclas
s.php')" etc. But when I do that, the error that I referenced earlier pops up as far as "DBAux.xml" can't be found.
If I'm on a page within my "html" directory, no problem. When I attempt to reference my classes from the "app" directory, things break down.
Is there a way to reference that class that preserves the "hierarchy" so my links don't break? Or do I simply need to ensure that any link within those classes is an absolute link rather than a relative one?