Dear experts,
I am a newbie to mysql and cygwin..
Here is what I did:
Installed mysql on Win 8. Installed cygwin and python 3.4.
I originally could not connect to mysql on my PC from cygwin (using cygdrive path) so, I also installed mysql client for cygwin downloading "MySQL-python-1.2.4b4.win3
2-py2.7" .. also installed mysql for cygwin . Below pic shows the cygwin mysql packages I had to install further..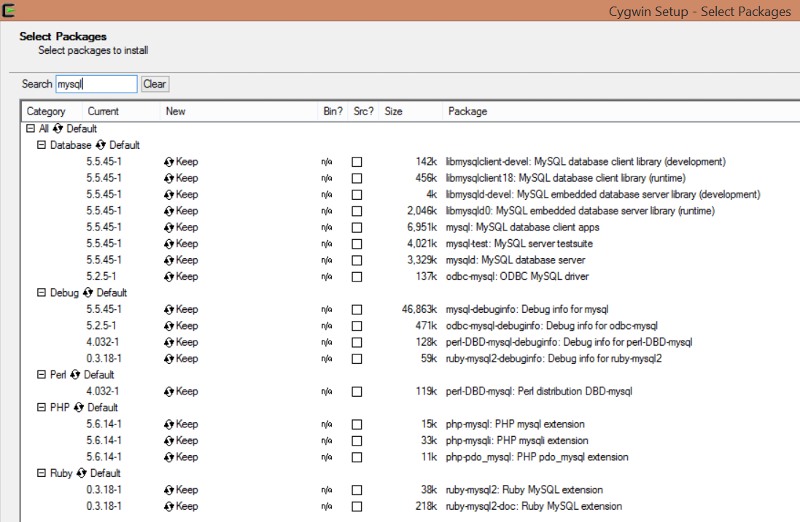 .
I was then able to connect to mysql.
I can run python programs on cygwin now, connect to mysql also, but I am unable to connect to mysql within python. I am unable to find exact information online...Could you please help me and tell what I am i missing here? Thanks for helping me with the steps
$ which mysql
/usr/bin/mysql
$ which py
/cygdrive/c/Windows/py
$ mysql -u root -p -h 127.0.0.1
Enter password:
Welcome to the MySQL monitor. Commands end with ; or \g.
Your MySQL connection id is 18
Server version: 5.6.27-log MySQL Community Server (GPL)
Copyright (c) 2000, 2015, Oracle and/or its affiliates. All rights reserved.
Oracle is a registered trademark of Oracle Corporation and/or its
affiliates. Other names may be trademarks of their respective
owners.
Type 'help;' or '\h' for help. Type '\c' to clear the current input statement.
mysql>
Below is python test script to connect to mysql :::
$ cat my.py
#!/usr/bin/env python
# -*- coding: utf-8 -*-
import _mysql
import sys
try:
con = mdb.connect('localhost', 'testuser', 'test623', 'testdb');
cur = con.cursor()
cur.execute("SELECT VERSION()")
ver = cur.fetchone()
print("Database version:%s" % ver)
finally:
if con:
con.close()
Error ::
$ ./my.py
Traceback (most recent call last):
File "./my.py", line 4, in <module>
import _mysql
ImportError: No module named '_mysql'
Another try using MySQLdb :
$ cat my2.py
#!/usr/bin/env python
# -*- coding: utf-8 -*-
import MySQLdb as mdb
import sys
try:
con = mdb.connect('localhost', 'testuser', 'test623', 'testdb');
cur = con.cursor()
cur.execute("SELECT VERSION()")
ver = cur.fetchone()
print("Database version:%s" % ver)
finally:
if con:
con.close()
$ ./my2.py
Traceback (most recent call last):
File "./my2.py", line 4, in <module>
import MySQLdb as mdb
ImportError: No module named 'MySQLdb'