I currently have 2 sites with 2 Server 2012 R2 domain controllers in each site.
The 2nd site has been just recently added.
Since the addition of the 2nd site I have been slowly moving servers from site A to site B.
Site B (The new site) also has its own independent internet connection.
I have been experiencing connectivity issues going out to the internet from the new site. It is intermittent. Sometimes I can browse the web with no issues and other times I get "Page Cannot be Displayed". Once this message is received, if I refresh the page it works.
With that being said, I decided to take a packet capture with wireshark and noticed that when the DNS requests are made from a server on the inside of Site B it queries the DNS server at the local site a couple times.... then queries the DNS Server at Site A.
I am assuming I have some DNS issues because it should not be doing that.
I then ran the DNS Betst Practices Analyzer and received the attached output: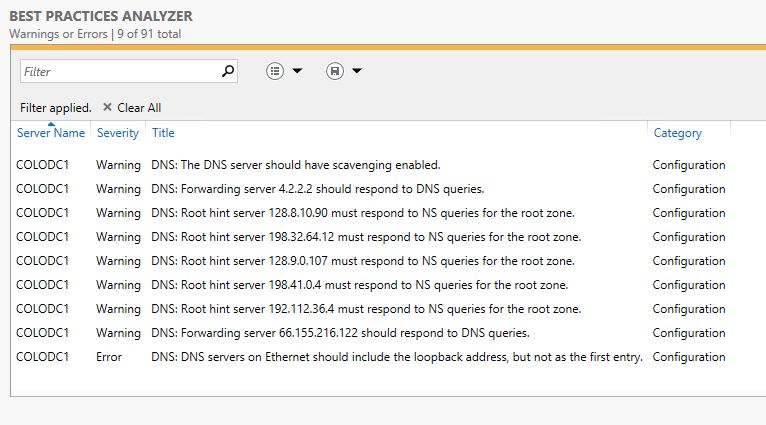 I am looking for clarity on the following:
1. The last Error message states that each Domain Controller should be configured to look at a different DNS server 1st, and have the 2nd DNS entry poit to itself. Is this correct? I was always under the assumption that each DC should look to itself 1st, and then another DC 2nd.
2. Can you please explain the other messages regarding the Root Hint Server and forwarding DNS server?
Please let me know your thoughts.... These issues are not only affecting the outbound internet access, but also affecting inbound connections to my RDS Gateway.