After login to the windows, a few minutes later the user experience an error message. Below is the error. But it is intermittent. After I do a GPUPDATE /FORCE and restart the system it will go away. After a few more boots, it will come back again.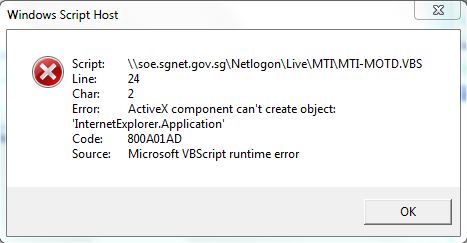 I suspect it has something to do with the logon script and conflict with some apps. Don't know what app. Or it could be the connection to the network is too slow and causes an error. I don't thing it is a WSCript error.
The system is a Lenovo x240 laptop. OS is windows 7 Enterprise 64bit. Loaded with ISAM ESSO startup and a logon script is pushdown during windows startup.
I hope someone here will be able to assist.