We're trying to establish connection to the management login for a Cisco stack, however, the password we have for it doesn't work. Therefore we've attempted to reset the password via the Cisco's "Password Recovery Procedure". To get to this we are connecting to the serial console port on the back of the master switch, power cycling the switch and pressing escape in order to gain access the startup prompt: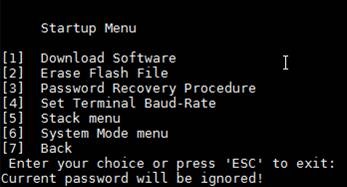 We then select option 3, however, at this point we only get a "Press Enter to Continue" message: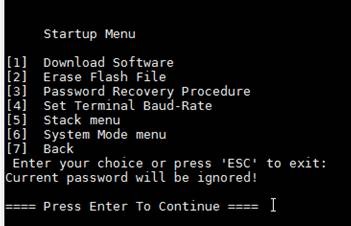 When you press enter it just goes back to the first prompt, it doesn't take you through any steps to reset or change the password or even provide you with a CLI to enter commands.
When looking in the manual for answers the only 2 pages that seem of relevance are p432, p579, however, I'm not entirely sure I understand the poultry information given on the process:
SG500 Manual
Any help or advise on how to achieve a password reset without wiping the config would be most appreciated.