Hi Experts,
I have a questions regarding permissions for someone's user data on a server.
I connected to our SBS2011 server and browsed to data and userdata and listed underneath were all the user accounts redirected documents etc.
this would be a really good way to move documents around as you could in theory (if an admin) drop documents directly into someones userdata and it would appear on that users PC.
but when I try to access it I am greeted with this message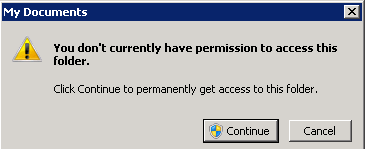 I am assuming that if I alter the permissions by clicking ok then I will gain access to it however I don't want this to break anything on the users side. would I get any knock-on affects by using this method?