While attempting to do some housecleaning on a customer Hyper-V machine, I attempted to move the VM storage and got an error I have never seen before.
Storage migration for virtual machine 'adobe01' (10543A89-4066-4B08-8F9E-B
F7E767B0FE
B) failed with error 'Account restrictions are preventing this user from signing in. For example: blank passwords aren't allowed, sign-in times are limited, or a policy restriction has been enforced.' (0x8007052F).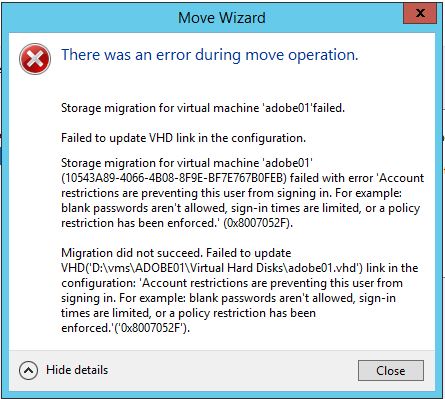 I have had some strange issues with the Hyper-V hosts in the past, and I think this is probably related. There were some crazy GPOs with access restrictions that have been removed, but something probably remains in there somewhere.
What account would be used when doing a Hyper-V storage move? Where should I check the permissions? Is there maybe a way to reset the permissions back to 'default' on this machine? It is Windows 2012 and it is domain connected. There is no AV running on the host.