I cannot tell if this is a vSphere issue or not.
The problem is I simply cannot deploy a template I created from a virtual machine.
I configured the OS, settings, etc, and sysprep'd with an unattend .xml file.
The error I'm getting is: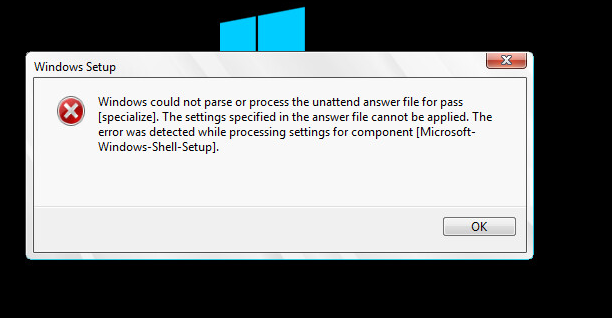 I checked the specialize pass in the xml and it's literally just:
    <settings pass="specialize">




        <component name="Microsoft-Windows-Shell-Setup" processorArchitecture="amd64" publicKeyToken="31bf3856ad364e35" language="neutral" versionScope="nonSxS" xmlns:wcm="http://schemas.microsoft.com/WMIConfig/2002/State" xmlns:xsi="http://www.w3.org/2001/XMLSchema-instance">




            <ComputerName>2012R2Fresh</ComputerName>




            <CopyProfile>true</CopyProfile>




            <ProductKey>D2N9P-3P6X9-2R39C-7RTCD-MDVJX</ProductKey>




            <RegisteredOwner>Our Organization</RegisteredOwner>




            <TimeZone>Central Standard Time</TimeZone>




            <RegisteredOrganization>Our Organization</RegisteredOrganization>




        </component>




    </settings>



From what I read, the error is usually a product key issue.
Thing is, this product key is a KMS client key, since we haev a KMS host on our network, we expect to use this key and the client will activate itself accordingly.
Surely that's not a wrong key? Is there some special settings I have to add? Some special "KMS" compatible ISO for 2012 R2 I have to use for my image?
The key is also placed in the windowsPE component, so I'm not sure if that's a conflict, or what. It's the same key...