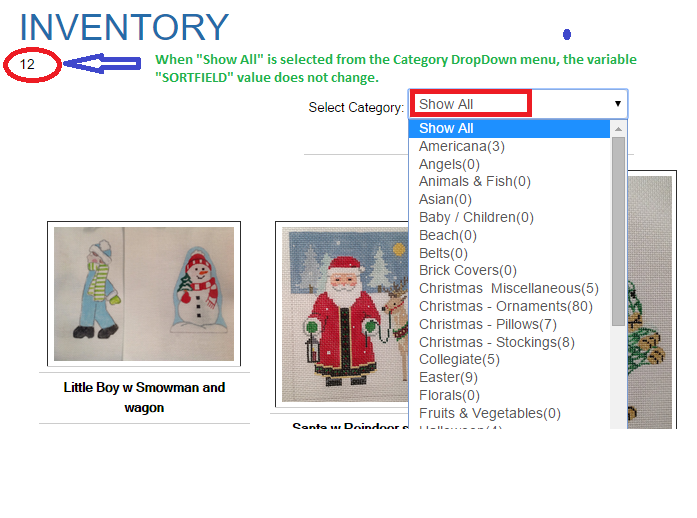 I have a drop down menu to select Category and based on the selected category, I run a query against Inventory table to display items that belong to the selected category.
But when I select "Show All", I like to display all items from the Inventory.
However when I do that, the screen stays the same.
So I displayed the value of SORTFIELD varialbe using <cfoutput> and found out that it kept the previous selected Category ID instead of showing "" when "Show All" was selected from the drop-down.
Is that because of this statement? <CFIF #FORM.SORTFIELD# GT 0>
Here is the code:
**************************
**********
**********
**
<CFparam NAME="FORM.SORTFIELD" Default=0>
<cfoutput>#FORM.SORTFIELD#
</cfoutput
>
<CFQUERY NAME="GetCategory" datasource="WhatsThePoint"
>
SELECT c.Category, c.ID, Count(inv.CategoryID) as CategoryCount
FROM Category C LEFT JOIN Inventory inv on inv.categoryID = c.ID
GROUP BY c.Category, C.ID
ORDER BY c.Category
</CFQUERY>
<CFQUERY NAME="GetFeaturedItems" datasource="WhatsThePoint"
>
SELECT Inventory.* , Category.Category, Designer.DesignerName
FROM Inventory, Category, Designer
WHERE Inventory.CategoryID = Category.ID and Inventory.DesignerID = Designer.ID
and Inventory.Status = 'A'
<CFIF #FORM.SORTFIELD# GT 0>
AND Inventory.CategoryID = #FORM.SORTFIELD# <!--- Display only the items in selected Category from drop down --->
</CFIF>
</CFQUERY>
<FORM ACTION="Inventory.cfm" METHOD="post">
<FONT color="black" FACE="MS Sans Serif" SIZE=-1>Select Category:
<SELECT NAME="SORTFIELD" onChange="this.form.submit
()">
<OPTION VALUE="" selected>Show All</OPTION>
<CFOUTPUT query="GetCategory">
<OPTION VALUE="#ID#">#Category#(#C
ategoryCou
nt#)</OPTI
ON>
</CFOUTPUT>
</SELECT>
**************************
**********
*********