hi there, I wonder if I can pick some clever brains on what i guess is a simple maths/physics problem.
I am considering to build a simple cantilever bed, such that the bed appears to be floating because the legs will be recessed much like on many tables.
The question is how much can i safely recess the legs so that the bed does not tip if say 200kg weight is applied at the edge.
Attached is a sketch.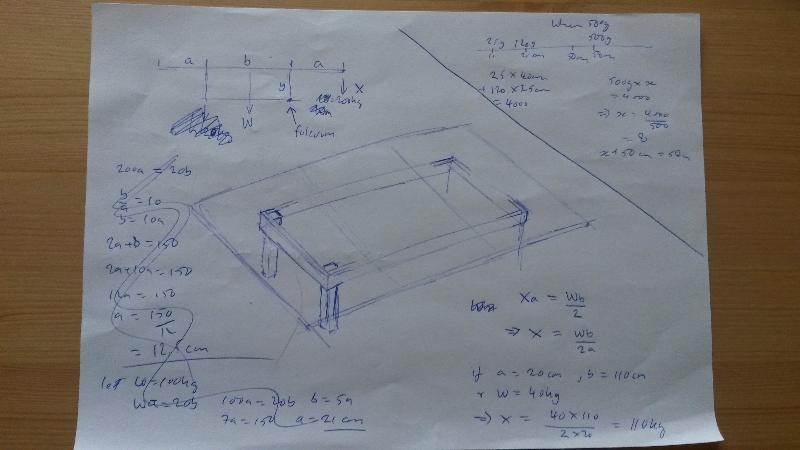 The variables are:
W = the weight of the bed
a = the distance the support is recessed from the bed's edge (just consider the bed width for now)
y = the height of the bed (centre of weight height?)
X = the maximum weight that can be applied at the edge before the bed tips
The constants are: the bed is king size, so 150cm x 200cm. On the sketch, b = the width of the platform support, so 2a + b = 150cm
I googled some
physics homework
about moments so made a simple calculation shown on the sketch. I have assumed the force due to the weight of the bed is as if applied to the centre, but not sure about this. If it is then I think Xa = Wb/2 so for example a 40kg bed (including mattress) with legs recessed 20cm would take a maximum weight of 110kg at the long edge. Do you think this is correct? I have not allowed for y, the height, though perhaps for low heights relative to width this is negligible?
Thanks for your help!