Hi EE peeps!
So, now that we're no longer allowed to get our private domains SSL certified by GoDaddy, I have run into a problem.
My new certificate with GD secures:
mail.domain.com
autodiscover.domain.com
My internal CA secures:
exchange.domain.local
Users are getting errors saying:
The name on the security certificate is invalid or does not match the name of the site.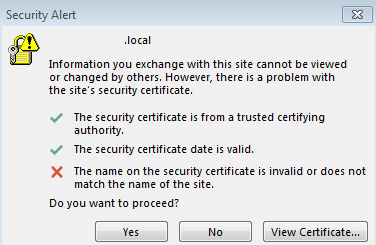 This is because users are getting the GD cert since that is the cert bound with IIS and SMTP, but the Outlook profile is configured for exchange.domain.local. I am afraid to give IIS and SMTP to the exchange.domain.local cert because that would give errors to external users, mobile devices, etc., right?
How do I certify internal and external users? Am I asking the right question(s)?
Should I just change the internal names to the external?
https://www.digicert.com/ssl-support/redirect-internal-exchange-san-names.htm