We use Data Flow Task in SSIS package to write the info from the table Customers into text file 'OutputReport.txt'.
The table Customers gets new columns/new info every 3-4 weeks so I have to re-create/update Flat File Connection Manager at the same time..to include new colums into output text file 'OutputReport.txt'.
I need to modify this SSIS so SSIS will dynamically read all existing fields from table Customers and write into text file 'OutputReport.txt'. I'm trying to use .Net code inside of Script Task similar to what's shown at
http://www.aspsnippets.com/Articles/Export-data-from-SQL-Server-to-Text-file-in-C-and-VBNet.aspx
My Question:
How can I read in the code the width of each column (for example: for column Zip the width=5, for column City the width=50 -please see the screenshot )??
In other words, .Net logic (inside of Script task) should read the Definition for each column from table Customers and format output data correctly..similar to how it's formatted in Flat File Connection Manager in SSIS.
I have attached SSIS package (Please rename Package.txt to Package.dtsx).
----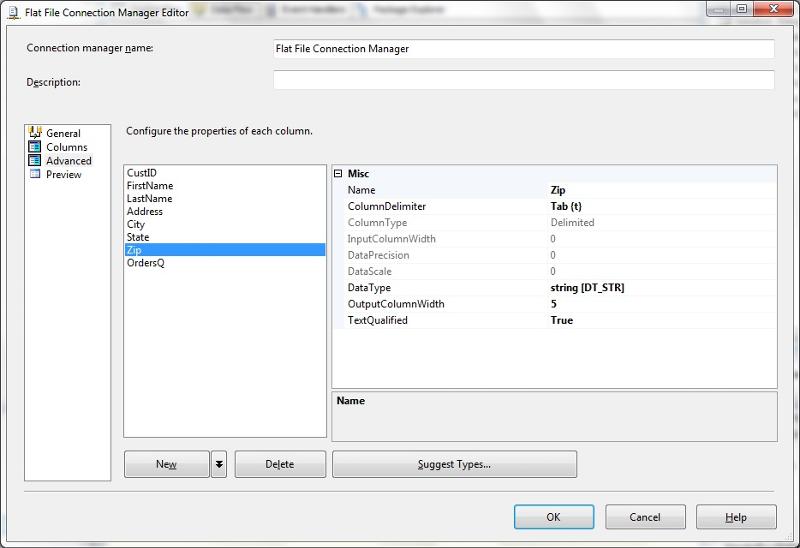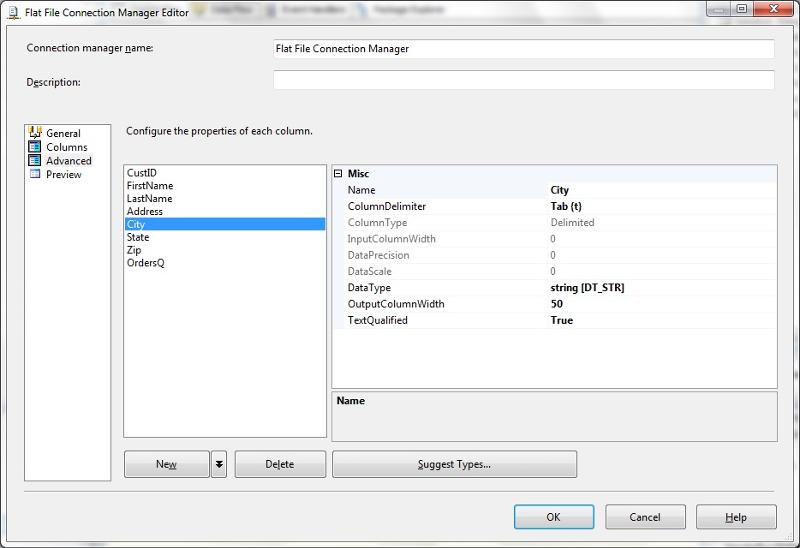 -----
Table Customers Structure:
CREATE TABLE [dbo].[Customers](
[CustID] [int] IDENTITY(1,1) NOT NULL,
[FirstName] [varchar](50) NOT NULL,
[LastName] [varchar](50) NOT NULL,
[Address] [varchar](50) NULL,
[City] [varchar](50) NULL,
[State] [varchar](2) NULL,
[Zip] [varchar](5) NULL,
[OrdersQ] [int] NULL
)
--------------------------
----------
----------
--------
Thanks
Package.txt
Customers.xlsx