I got Delphi 2010 Professional. After uninstalling the Embracadero limited Fastreport and installing the Enterprice version 5 i get this error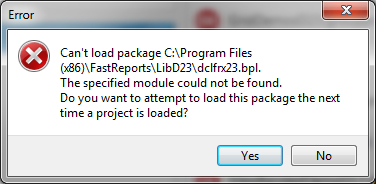 . When i contact Fastreport support i get the answer:
"Do you use Delphi 10 Seattle? If yes - ignore loading of FR Embarcadero edition packages". The FR Embarcadero is a reference to the Embracadero limited Fastreport that is already uninstalled, the "ignore loading" part is not understandably for me. If its uninstalled, what more can I do? After that the support went quiet and probably are close for the night by now.