Hello Colleagues,
This is my setup:
Modem =====> Router w/ Wfi ======> Server ===>clients (scope in DHCP)
12.168.1.1===> 10.10.10.10==== ====>10.10.10.1=>10.10.10.
100-200
I turned off the feature for
DHCP server
in router, I still haven't created the AD just yet.
My situation:
server side: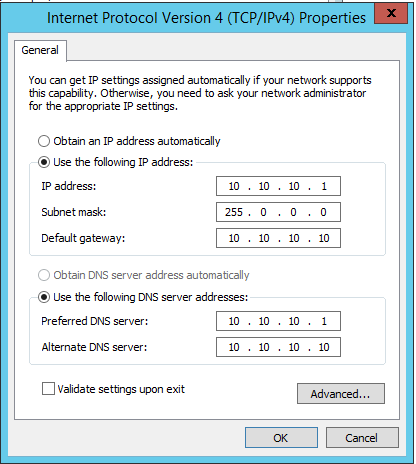 from the server I could connect to the internet and ping all clients, I have no problem it works like a charm
From my clients side, Cellphones, Printers and other devices also connect to the network But -NO internet, even though I see their lease in the DHCP
If I was to go to an actual windows pc client and I specify the IP4 settings just like the ones above (
changing it to its dedicated IP of course
), then it works like it should...as opposed if I leave it to obtain the IP automatically...
Is this because I haven't set up the AD yet? what am I missing so I can leave it all devices to obtaining it automatically? how would this work with the WIFI devices?
If anybody can can help me decipher this headache, I would appreciate it