I would like the tabs that I create in my XML definition of a ribbon in my add-in appear in the backstage of the Office application as shown in this screenshot of the
Options
/
Customize Ribbon
for the MSO app: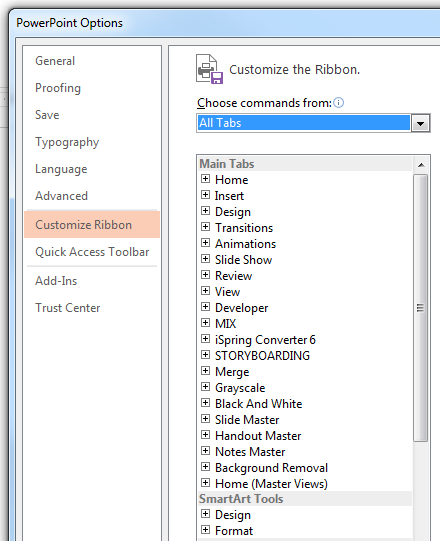 I have tried adding a custom namespace to the XML and used the idQ element to define shareable tabs but it doesn't help.
<customUI onLoad="onLoadRibbonBP" xmlns="http://schemas.microsoft.com/office/2009/07/customui" xmlns:yp="youPresent">




  <ribbon startFromScratch="false">




    <tabs>




      <tab idQ="yp:TabTest" label="TEST"/>




    </tabs>




  </ribbon>




</customUI> 



How can I achieve this? The backstage options screenshot above seems to grab all Microsoft tabs but there is also one from iSpring (albeit a COM add-in) so is it technically possible?