I took my Asus UX32VD-DS72 i7-3517U 13" FullHD Ultrabook in because I could not Update win 8, which was required; apparently, before installing Win10.
I instructed them to troubleshoot that issue then asked them do a "clean install" Win 10; minus all the Asus bloatware and the partitions Asus comes with: C:, D:, Recovery, etc. I also gave them a 4GB flash drive for the Recovery files.
When I got the computer back it was loaded with Asus software, and the Asus screen saver logo. When I asked why that was they said; "Oh, we'll just remove all that", and proceeded to the Control Panel and, one by one, started removing the Asus programs. That made me very uncomfortable, to say the least. I couldn't help but wonder, if this was a "clean install", why all that Asus software was there in the first place.
When I got home I checked the SSD for partitions. As instructed they removed the D: partition but there is a 20GB and 900 MB "Recovery partition", a 14 GB
FAT
and 447 GB NTFS "Primary Partition", plus a couple smaller partitions.
I checked the flash drive and it contains an 11GB Recovery file.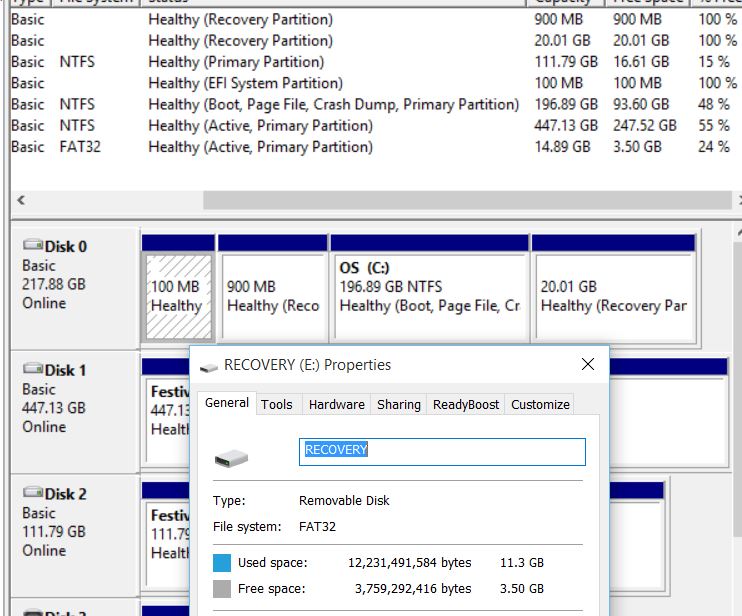 So I am wondering, if this was a "clean Install" why was all the Asus software still on the machine, and; if the recovery files are on the flash drive, why does there have to be a 20GB recovery partition. I'm also wondering why is there a 15GB FAT32 partition.
The whole point of a "clean install" was to rid myself of Asus Bloatware and free up memory on my SSD.
I'm no expert; that's why I here (-:, so maybe the Recovery partition is required, so too maybe I need a FAT partition for "backward compatibility?", I just don't know!
Oh and btw; can I change the Drive letter on the flash drive without compromising a recovery process; or does it need to remain E:/. I would like to change it to Z: