Hi I am trying to get Skype for business sign-in to work but am running into an error when I sign into Skype for business with my AD/O365 synced account.
Skype for Busienss couldnt' find a Skype for Business Server for <OurDomain.com>. There might be an issue with the Domain Name System (DNS) configuration for your domain. See KB2566790 for details.
I can signin fine to the portal.office.com with the same credentials. So is the only other area this could be a the area of DNS/networking? Or is there further configuration needed within the Tenant for Skype?
I tried the TestConnectivity tool at
https://testconnectivity.microsoft.com/?testid=O365LyncDns
 and the results were half failure, half successful
Here is a screenshot of those test results (obfuscated for privacy/security concerns):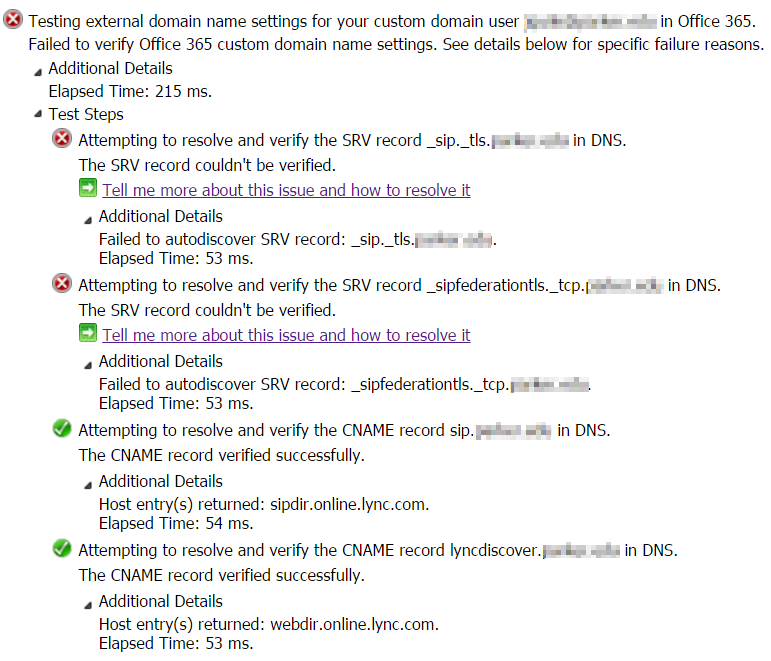 I checked with our in-house DNS person. They advised that the necessary DNS entries are there.
So naturally, I went to Google the error text. What I found was a forum thread (
https://community.office365.com/en-us/f/166/t/179505
) where somebody had a similar error, and that their issue had something to do with "RNDC" (linux bind?) and that they "restarted all the DNS servers and that forced an update out".
I'm pretty sure our DNS servers have been rebooted before, at least well after these DNS SRV/CNAME entries were made in the zone file.
So I'm not sure if that's the culprit in our case.
Any other ideas/suggestions on where to check next?