I have a test lab with two physical servers.  A DC and a VMWare host 4.1 esxi.  The host has 5 virtual (win2008R2) servers; A 2nd DC, Exchange 2010 server, Sharepoint Server, Vcenter Server, Application server,
I noticed that the time on each of the servers was WAY off.  it had an August 14, 2009 date and time was also off by about 6 hours.  I verified the the PDC (physical server had the correct time) and then went into the ESXi host and configured the time to sync with the PDC.  All time across the host and all virtual servers sync'd up and showed the correct time.
However, the replication between the PDC (physical server) and the BDC (Virtual Server) quit working.  I can replicate between the PDC and the BDC, but not from the BDC to the PDC.
I am getting the following error: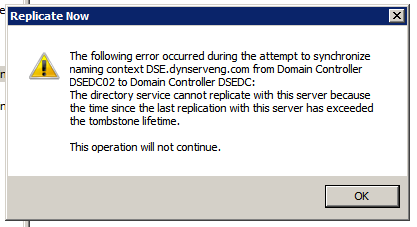 All the MS tech articles describe the cause of the problem as being a big jump between the last replication times.  Which I understand  because it jumped 6 years!  However, I don't see anything that says how to fix this.