I am attempting to understand the Binding Order that Microsoft would consider best practice.   Here is a screenshot of what I have now...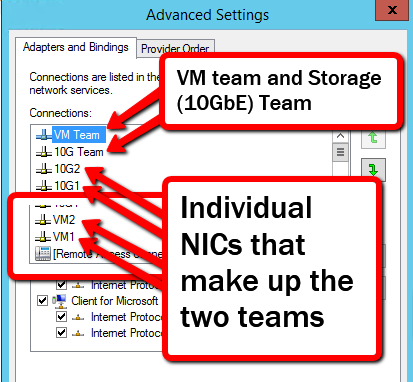 What should the correct Binding order (considering I am using NIC Teaming).  Also, I only have enough switch ports for 1 10Gbe on each server (even though they are dual port NICs).  However I am still using NIC teaming.
Edit: I am open to suggestions on how I should allocate roles like Live Migration, Management etc as this is a brand new lab.
Edit: Apparently I am not supposed to be teaming with SMB3 under certain circumstances:
http://blogs.technet.com/b/josebda/archive/2013/10/09/networking-configurations-for-hyper-v-over-smb-in-windows-server-2012-and-windows-server-2012-r2.aspx
Edit: Or perhaps teaming is correct method:
http://blogs.technet.com/b/josebda/archive/2012/05/13/the-basics-of-smb-multichannel-a-feature-of-windows-server-2012-and-smb-3-0.aspx
Thank you.
K.B.