Hi,
As with everything else on Windows there's usually a shortcut key or (start -> run -> xxxxx) to get to anything in Windows.
(i.e.: Start -> Run -> appwiz.cpl <enter> to get to Add/Remove Programs or pressing Windows + Pause/Break to get to System Properties etc. etc.)
Question:
Is there a short/quick way to get to the IE Proxy Settings as per screen shot below on Windows?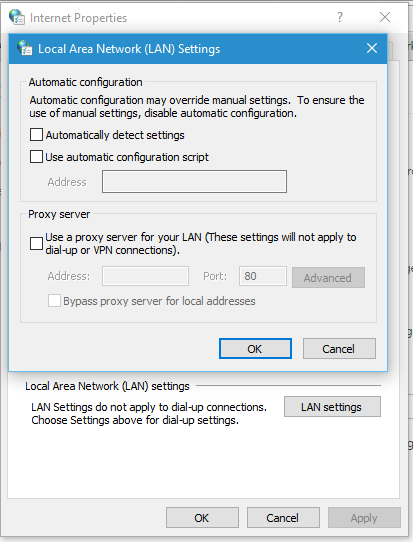 With a lot of people using Chrome it is quite a pain to get to the Proxy Settings within Chrome or to use IE and go Tools, Internet Options, Connections, LAN Settings bla bla bla... to get to the LAN Settings where one changes proxy settings, surely there's a Start -> Run -> xxxx <enter> shortcut for this too? Otherwise, how would Chrome bring up that same IE window when one goes via Chrome to change Proxy settings...?
Thanks a lot for anyone who has figured this out.
Reinhard.
LAN-Settings.PNG