Hello,
I have a strange issue that I can't seem to resolve.  This error seems to pop up on a Windows 7 PC at random. Once you close it, it pops up again.  I have taken the following action to try and isolate the source of the problem.
Image
1.Used msconfig and disabled all startup items and non-Microsoft items.  Issue continues.
2.Conducted a search through registry for this file.
3.Completed a spyware/malware scan.  
I'm not sure how to proceed.  Any suggestions?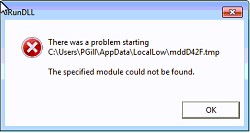 Thanks,
RealTimer