Hello,
What is the source of the small man figure shown in the following screenshot?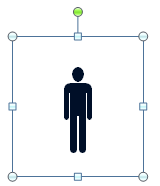 The above screenshot is a Text Box I found in an old PowerPoint file. As best as I remember, it came from one of the Insert > Symbol sheets in MS Office apps, but now I cannot find it nor recall it's origin. I do remember that, in addition to the man, there was also a figure of a woman and another figure showing a man and woman with a couple of children.
I believe the figure is not a picture or image, but is a font character as it resides in a Text Box. By the way, selecting the figure inside the box does not indicate the font.
Does anyone happen to know the source?
Thanks